About West Berlin Gallery
Liebe Freunde der Kunst! Die Kunst ist der grundsätzliche Sinn des Lebens.
Als Kind spielte ich artig Klavier, verschlang alles Lesbare, studierte später Literatur und Kunst und arbeitete als Lehrerin. Ich gewann Einblicke in unsere soziale Existenz und entdeckte jene unendliche metaphysische Welt, die hinter den Dingen liegt.
Eines Abends, es regnete, besuchte ich eine Ausstellung des Malers Wolf-Dieter Pfennig. Nachdem ich den Regenschirm in die Ecke gestellt hatte, geschah das Wunder: ich spazierte mit den Augen durch einen Dschungel oder besser, durch ein verwildertes Paradies. Von den Wänden her überfielen mich expressive Figuren, verwunschene Tiere, vom Zauber erhitzte Akte – allesamt getaucht in Farben, die den trüben, verregneten Abend vergessen machten. Diesem Irrgarten einer poetischen Malerei konnte und wollte ich nicht entkommen.
Ich erwarb meinen ersten Pfennig….
An einem viel späteren Abend, wieder regnete es, saß ich mit dem Maler beim zweiten Glas Rotwein und machte ihm den Vorschlag, einen Teil seiner Werke in einer Internet-Galerie zu präsentieren: Die Menschen der ganzen Welt haben das Recht, deine Bilder zu sehen und zu kaufen! Eine Weile überlegte Pfennig, dann sagte er lächelnd: Ich denke, zu diesem Recht sollten wir den Menschen verhelfen.
Nun ist es soweit! Nehmen Sie sich das Recht! Ich lade Sie dazu ein – auf eine Wanderung ohne Geländer zur Kunst Wolf- Dieter Pfennigs.
Ihre Gisela Berger / Internetgaleristin
————————————————————————————————————————————————————————————-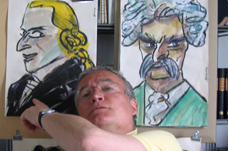 Wolf-Dieter Pfennig, geboren 1956 in Dresden, studierte 1980 bis 1985 an der Kunsthochschule in Berlin-Weißensee. Danach freischaffend in Potsdam und Berlin tätig. Viele eigene Ausstellungen und Ausstellungsbeteiligungen im In-und Ausland. Seine Plakate wurden oft beim Wettbewerb "100 beste Plakate" ausgezeichnet. Seit 1990 Realisierung von Wandbildern. 1995 Toulouse-Lautrec-Medaille vom Plakatmuseum in Essen. Seit 2002 Professur an der Fakultät Gestaltung der Hochschule Wismar. 2006 Silbermedaille auf der Biennale in Lahti.
————————————————————————————————————————————————————————————-
Dear friends of art! Art is the fundamental meaning of life.
As a child I played the piano, devoured words and books. Later I studied literature and art and became a teacher. I gained an insight into our social existence and discovered the infinite metaphysical world behind that of material objects.
One evening I visited an exhibition of the painter Wolf-Dieter Pfennig. It rained. After having put the umbrella into the stand a miracle happened: with my eyes I strolled through a jungle, a wild paradise. I was attacked by expressive figures, enchanted animals, hot magic nudes – all were drenched in colours that let me forget the dull and rainy evening. I couldn't and I never wanted to get out of this maze of a poetic painting. I purchased my first Pfennig painting.
One evening much later. It was raining again. The painter and I already had some glasses of wine when I suggested to present some of his paintings in an Internet gallery: My opinion is that everybody on earth has got the right to see and buy your paintings. Pfennig thought it over, smiled and said. Okay, let us help people to recieve what is rightfully theirs.
Now we are ready to start. Take your right! I invite you to stroll through Pfennig's jungle of poetic paintings.
Yours Gisela Berger
Internet galerist
Wolf-Dieter Pfennig born 1956 in Dresden studied 1980-1985 at the Art Collage in Berlin-Weißensee. After that freelance in Potsdam and Berlin. Many one man shows and group shows at home and abroad. Numerous awards at the competition "100 Best Posters". Since 1990 wall-painting. 1996 Toulouse-Lautrec-Medal of the Poster Museum in Essen. Since 2002 chair for design at the University of Technology, Business and Design in Wismar. 2006 silver medal at the Biennial in Lahti.